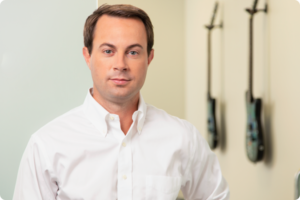 David Crenshaw, CPA, JD
Chief Financial Officer & Corporate Secretary
David Crenshaw serves as the Chief Financial Officer and Corporate Secretary of Confirmation. A mergers and acquisitions attorney and certified public accountant by training, David oversees the accounting, finance, and legal divisions of the company.
Prior to joining Confirmation, David practiced corporate law at Nashville-based Sherrard Roe Voigt & Harbison, PLC, specializing in complex acquisitions, equity and debt financings, securities law, and corporate governance matters. Con regularidad representaba a clientes en temas de capital de riesgo y capital privado en varias transacciones comerciales, estrategias de inversión, empresas conjuntas y otras alternativas estratégicas.
Antes de ejercer en el área legal, David ocupó el cargo de contador público certificado en Ernst & Young, LLP donde realizaba auditorías y prestaba servicios de asesoramiento en transacciones para clientes Fortune 500 con sede en la región centro de Tennessee y alrededores.
David cuenta con un doctorado en Jurisprudencia de la Vanderbilt University y una Maestría en contabilidad de la University of Tennessee.